Did it take a global pandemic to highlight the flaws in our society? Can books help us to create a better world for generations to come?
Author, poet and playwright Owen Sheers has selected ten of the most inspiring UK writers asking the questions that will shape our future, as part of the International Literature Showcase. From shining a light on a range of voices and experiences to tackling the essence of what it means to be human in the natural and scientific world, these ten must-read books challenge the status quo and pave the way for a brighter future.
Explore our hand-picked list below and add your favourites to your shopping basket…
---

Kings of the Yukon
by Adam Weymouth
'A rich and fascinating book… so vivid it reads like a thriller.' – Elisa Segrave, The Spectator
A dazzling, empathetic portrait of the Yukon River and the many people and ecosystems that depend on it, written from the perspective of one who has kayaked its length. Weaving in the history of the King salmon run and their mysterious life cycle, Kings of the Yukon is extraordinary adventure and nature writing at its most compelling.
 'A beautifully written, devastating and painfully urgent piece of travel writing.' – Owen Sheers
Adam Weymouth is a writer and journalist, whose work has appeared in a wide variety of publications, including the BBC, the Atlantic, the Guardian and Lacuna. His first book, Kings of the Yukon, won both the Sunday Times Young Writer of the Year and the Lonely Planet Adventure Travel Book of the Year.
---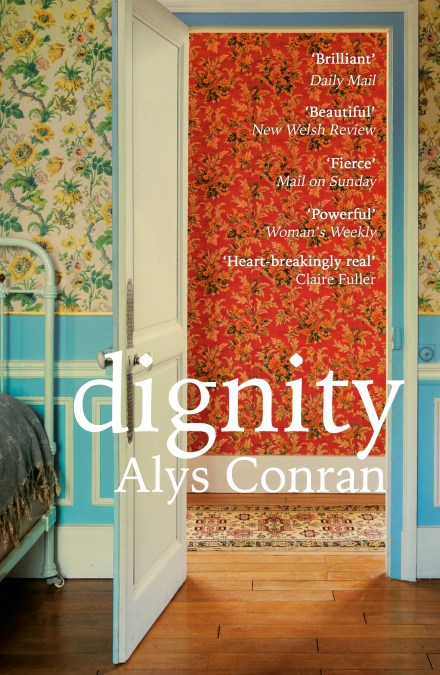 Dignity
by Alys Conran
'Packs a powerful punch and makes you smile while breaking your heart' – Woman's Weekly
Dignity tells the story of an unlikely friendship between two women from very different backgrounds: Magda's old-fashioned, no-nonsense attitude turns out to be an unexpected source of strength for Susheela; and Susheela's Bengali heritage brings back memories of Magda's childhood in colonial India.
'Alys Conran is a novelist of rare accomplishment and skill whose use of language and characterisation effortlessly carries readers away.' – Owen Sheers
Alys Conran's first novel Pigeon won the Wales Book of the Year Award 2017 and was shortlisted for the International Dylan Thomas Prize. It also won the Rhys Davies Trust Fiction Award and The Wales Arts Review People's Choice Award. Her second novel Dignity was published in 2019 to critical acclaim. She is the Hay Festival International Fellow for 2019-20. She also writes poetry, short stories, and creative essays.
---
Fierce Bad Rabbits: The Tales Behind Children's Picture Books
by Clare Pollard
'An enlightening, perceptive analysis of the books that build us' – Sunday Telegraph, 5 star review
What is The Tiger Who Came to Tea really about? Why is death in picture books so often represented by being eaten? Clare Pollard takes us on an eye-opening journey in a pea-green boat through the history of picture books, from Edward Lear through to Beatrix Potter and contemporary picture books like Stick Man.
'Wonderfully skilled and with a rare lyrical gift, her poems ask today the questions the rest of us will ask tomorrow.' – Owen Sheers
Clare Pollard has published five collections of poetry, most recently Incarnation (Bloodaxe, 2017) and a pamphlet, The Lives of the Female Poets (Bad Betty Press, 2019). Her translation projects include a new version of Ovid's Heroines (Bloodaxe, 2013) which she toured as a one-woman show. Clare is the editor of Modern Poetry in Translation, and poetry editor for The Idler.
---
The Grassling
by Elizabeth-Jane Burnett
'A subtle, moving celebration of place and connectedness.' – PD Smith, Guardian
In this lyrical tribute to the natural world, Burnett explores her father's home region, the West Country, and the connection between a place and the people inhabiting it. Delicate, beautiful and full of reverence, The Grassling is a profound meditation on the interconnectedness of memory, language and natural history.
'This is a work of illuminating grace and observation that offers us glimpses of new ways to know ourselves and to be.' – Owen Sheers
Elizabeth-Jane Burnett is an author and academic. Her creative and critical work has a largely environmental focus. Publications include the poetry collections Swims (Penned in the Margins, 2017) and Of Sea (Penned in the Margins, 2021,), and nature writing memoir The Grassling (Penguin, 2019).  She is Associate Professor in Creative Writing at Northumbria University.
---
The Rule of the Land: Walking Ireland's border
by Garrett Carr
'Carr has the eye of a scientist, and a poet's facility with words' – Irish Independent
In the wake of the EU referendum, the United Kingdom's border with Ireland has gained greater significance. From encounters with border dwellers to uncovering rituals, hidden pathways and ancient monuments, this book presents the borderland as a unique realm of its own, and asks what it holds for the future.
'A brilliant  philosophical exploration and excavation of a specific border and all borders.' – Owen Sheers
Garrett Carr is a writer and map-maker. He grew up near Ireland's border and much of his work focuses on the region. For The Map of Connections he charted unofficial and previously unmapped paths and bridges crossing the border. The process was the subject of a BBC radio documentary. The Rule of the Land: Walking Ireland's border (Faber & Faber, 2017) was BBC Radio 4 Book of the Week. Garrett is a regular contributor to radio, TV and the press.
---
Finding Sea Glass: Poems from The Drift
by Hannah Lavery
'It doesn't shy away from the truth, but the best art never does.' –  Kevin Gilday
Exploring bereavement, belonging and rage, Hannah Lavery's Finding Sea Glass: Poems from The Drift is a eulogy for her father and searingly honest portrayal of growing up mixed-race in Scotland. The pamphlet consists of poetry selections from The Drift, Hannah's National Theatre of Scotland show.
'Lean and challenging, her work is driven by an honesty and energy of surprising power and immediacy.' – Owen Sheers
Hannah Lavery is a Scottish writer, poet and playwright. The Drift, her autobiographical play, was produced by the National Theatre of Scotland for a nationwide tour in 2019. Her most recent play, The Lament for Sheku Bayoh, was commissioned by the Royal Lyceum Theatre for the Edinburgh International Festival. She was awarded a New Playwright Award from Playwrights Studio Scotland and was named as one on BBC Writers Room Scottish Voices of 2020.
---
The Burning
by Laura Bates
'A potent reminder of how far feminism has come and how far it has to go' – Kirkus Reviews
A rumour is like a fire. You might think you've extinguished it but one creeping, red tendril, one single wisp of smoke is enough to let it leap back into life again…
The compelling YA debut from Laura Bates, founder of the Everyday Sexism Project and bestselling author of Girl Up.
'At once ultra contemporary and tragically timeless.' – Owen Sheers
Laura Bates is the founder of the Everyday Sexism Project, a collection of hundreds of thousands of women's experiences of harassment, discrimination and abuse with branches in 25 countries worldwide. She works closely with governments, police forces and schools to tackle gender inequality. She is the bestselling author of Everyday Sexism, Girl Up and The Burning and her new book, Men Who Hate Women, will be published in 2020.
---
Gathering Evidence
by Martin MacInness
'The best experimentalist now working.' – Simon Ings, The Times
The world is heating up, species are dying out, and data collection is thriving. Gathering Evidence is a deeply intelligent and thrilling novel of a family stalked by fear and uncertainty, and of a world both beautiful and terrible.
'Martin MacInnes's inventive and inquiring novels explore what it means to be human in the 21st century.' – Owen Sheers
Martin MacInnes was born in 1983. His short story, Our Disorder, won the Manchester Fiction Prize. His debut novel, Infinite Ground, won the Somerset Maugham Award. Gathering Evidence, his second novel, was published in 2020.
---
You People
by Nikita Lalwani
'A moving, authentic, humane novel which raises fundamental questions about what it means to be kind in an unkind world'  – Guardian
In a world where the law is against you, how far would you be willing to lie for a chance to live? You People is a heart-breaking, politically charged story about the struggle to belong, following the lives of a group of illegal immigrants in London.
'Nikita Lalwani deploys an acute insight into human nature to explore the blurred edges of kindness and compassion.' – Owen Sheers
Nikita Lalwani was born in Rajasthan and raised in Cardiff. She has written three novels – You People ( 2020), The Village ( 2012) and Gifted (2007), which was longlisted for the Man Booker Prize, shortlisted for the Costa First Novel Award and won the Desmond Elliott Prize. She was also nominated for the Sunday Times Young Writer of the Year Award. She lives in London and is a fellow of the Royal Society of Literature. Her work has been translated into sixteen languages.
---
The Perseverance
by Raymond Antrobus
'Antrobus interlaces wit and pathos as he examines his identity as a deaf British-Jamaican man in a world between sign language and speech.' – The Sunday Times, Poetry Book of the Year
One of the most crucial new voices to emerge from Britain, Raymond Antrobus explores the d/Deaf experience, the death of his father and the failure to communicate. Ranging across history, time zones and continents, The Perseverance operates in the in-betweens of dual heritages, of form and expression emerging to show us what it means to exist, and to flourish.
'Imbued with the directness of performance, the authenticity of experience and the touch of a master craftsman, The Perseverance is a book that resonates with a reader long after the last page is turned.' – Owen Sheers
Raymond Antrobus is a British poet with Jamaican heritage and is the author of The Perseverance. In 2019 he was a recipient of the Ted Hughes Award and won the Sunday Times/University of Warwick Young Writer of the Year Award. He was also the first poet to be awarded the Rathbone Folio Prize.
---
Owen Sheers' list was commissioned by the National Centre for Writing and British Council, supported by Arts Council England, as part of the International Literature Showcase – a two-year programme to promote writing from the UK to new international audiences. 
Join the conversation on Twitter @WritersCentre #LitShowcase
Find out more about previous showcases, curators and responses to the ILS here >>